Make Money From Your Website
This page contains information on affiliate schemes in the UK.

If you have your own website, then why not make a little money from it? Known as affiliate marketing, this does actually work!
Here's how to make money from your website:
1
Sign up to an Affiliate Management company, such as the ones listed below. This is free.
2
Select suitable advertisers from the large list available. Look for advertisers relevant to what your site offers
3
When you sign up to a specific merchant, you can access a list of all the banner ads and text links that they have provided. Select one that's most suited, and you'll get the HTML ready to paste into your site. An example fragment looks like:

Use cut-and-paste to get the code into your page, then upload the page to your site. As an example, the above link will look like this: Shop with Amazon.
With a similar link, you'll make 5% of sales made as a result of one of your site visitors clicking and ordering from Amazon.
4
Check back with the Affiliate Management company regularly to view your statistics. This displays how many times a banner or link has been displayed, how many times it's been clicked on, and how much you've made. Business can be slow, which is why regular checking and site tweaks is important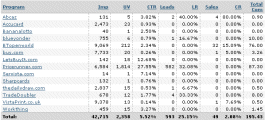 Examples of online statistics

The major UK Affiliate Networks
Details
Affiliate Window - One of the top UK affiliate networks with some of the biggest names. Well respected by online marketeers, and at the moment, the ConsumerDeals network of choice.
If you're looking for good reporting, a wide spread of merchants, and a decent payout, try Affiliate Window. Payments are made every month, two month in arrears. Payment threshold is £25


Amazon
- Probably one of the more common ways to get started making money out of your website - You get a cut from purchases made on Amazon.co.uk. If your site wants to sell DVDs, books, videos, etc., it could be well worth trying.


Google Adsense - Add Google's adverts to your site, and get paid for clickthroughs that you generate. You paste some Javascript code into your pages, and the clever Google Adsense looks at your page content and add appropriate, relevant ads. A nice little earner.


TradeDoubler - Nicely laid-out sites and stat reports. They handle a whole load of other UK big names and top-performers. Payments are made every two months, after a two month gap (i.e. Apr payment covers Jan and Feb). Payment threshold is £30.


Commission Junction - Schemes include Argos, Skype, Thomson Holidays and House of Fraser. Based in the US, CJ now has a presence in the UK, and pay in Sterling. Very prompt payers, with good online reporting. Payments made monthly, with a £35 threshold for payment to UK customers.
Affiliate Future - An up-and-coming affiliate with advertisers including Kelkoo, Ink factory, UK Domains and a fair number of others. Reporting seems good, and feedback from other users is positive.


Zanox - We've only just signed up to this affiliate network, so can't offer much in the way of comment at this time. First impressions look good. Xanox appears to be a German operation (reflected in the English on their site), but has a good range of merchants for one of the lesser-known networks.
To see the full list of merchants, you need to create a free account with them first.


Useful links
Bookmark this page:

Del.icio.us
|

Digg
|

StumbleUpon
|

Technorati
|

Facebook