Your Digital TV Options
The UK is slowly switching over to Digital TV. On this page, you'll find information and advice on upgrading from the five standard UK channels

The common assumption is that this involves getting a satellite dish and a subscription to Sky. Certainly, Sky is a great proposition for those looking for the widest range of channels, but there are alternatives, including the subscription-free Freeview service.
If you're confused about your options, this page may help.
What are the bonuses of digital TV?
Digital TV brings more channel choice, in better quality than the five standard analogue TV channels, and with some nice extra features & services:
More channels - Sky offers the biggest channel line-up, but check your potential provider to see if they have what you're after. Popular channels include Sky 1, E4, BBC3, Sky Atlantic, Sky Living, ITV2 and GOLD. Channels exist for comedy, Sci-Fi, music, movies, news and sport.


EPG - An electronic programme guide. Much better than Teletext for seeing what's on.


Better quality - Nice sharp pictures, without the ghosting and interference seen on normal TV. High definition is available on some digital TV services.


Pay-per-view services - Pick from a selection of movies, special sporting events, or adult programming and pay via your subscription or credit card.


Improved viewing - with services like widescreen, Dolby 5.1 surround sound, and interactive services.


Digital recording - Record digitally onto hard-disk, or record a digital channel whilst watching an analogue show. Boxes called PVRs (Personal Video Recorders) make recording and managing digital channels a breeze - Services like Sky+ give you greater control of what you record.
What are the options?
The options open to you if you want digital TV in your home are:
Satellite

Sky Digital. You'll need Sky to install a satellite dish for you. They'll also provide you with a digibox that plugs into your TV. If you have an HD Ready TV, Sky currently offers the largest number of High Definition channels. Full details at sky.com

See Radio and Telly's Sky Digital page for details. You'll also find information on Sky in the regular FrequencyCast podcasts

Sky: Sky offers with over 250 TV channels, including lots of HD channels and a 3D TV service. You can get the basic Sky Digital service from £21.50 a month. With some packages, you can get a free Sky+ set-top box and dish. You can also get a package that combines Broadband Internet access and free UK evening and weekend landline calls. For the latest offers from Sky, go to sky.com

If you'd prefer not to pay for your satellite TV from Sky, there are a couple of free options, including Freesat. See the Radio and Telly Free Satellite page for more.



TV aerial

Freeview. This is known as Digital Terrestrial TV (DTT) and is received through your standard TV aerial. Freeview launched in October 2002, as the successor to onDigital/itvDigital. Freeview offers around 60 channels of digital TV and radio - All channels are free to watch, and no engineer needs to visit (although an aerial upgrade may be needed if your current aerial isn't suitable). Channel line-up is more limited than Sky Digital.

You can get Freeview for a one-off payment of around £25 (to buy a set-top box), provided you're within a coverage area (check Freeview coverage). Channels available on Freeview include BBC 3, BBC 4, E4, ITV2, Dave, BBC News, Quest, CBeebies and Yesterday.

With Freeview, there are a couple of options to consider - subscription to extra channels with Top Up TV, and TV content over Broadband with BT Vision.

For full details, a summary of the various set-top boxes on offer, plus links to useful sites, see our Freeview page.

BT Vision

BT Vision. With BT Vision, you get a special set-top box that connects to the Internet, and offers Freeview TV, plus extra TV content downloaded via Broadband.

The box comes with storage for 80 hours of TV and access to loads of TV, movies and sport. BT Vision is available to BT Total Broadband customers.

More details at btvision.bt.com or see Radio and Telly's BT Vision page



Cable TV
If you're served by cable operator Virgin Media (formerly NTL / Telewest), they may be able to provide you with a cable TV package, as well as phone services. Again, you'll need an engineer to visit to get you connected and to provide you with a set-top box.


Internet TV

TalkTalk TV. Known as Tiscali TV until January 2010, this service is available in London and other parts of the UK, and uses an existing phone line to deliver TV channels to your home. You're supplied with a special decoder box, and then have access to digital TV, plus a range of other services.

TalkTalk TV offers over 70 channels of digital TV, 1500 on-demand movies, over 5000 music videos, hundreds of TV series, and a TV rewind service. More on Radio and Telly's TalkTalk TV page
What is Interactive TV?
Most providers offer some kind of interactive service. Think Ceefax and Teletext, mixed with the Internet. Information on demand, plus two-way services over your phone line, such as email, online shopping and banking. Sky TV viewers are encouraged to "press the red button" to get interactive, and try the news, offers, games, features, and pay services of their interactive offering, SkyActive Alternatively, check out BBCi, the Beeb's excellent interactive service.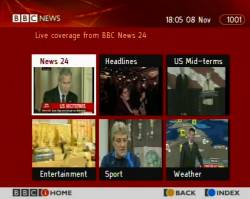 The BBC Digital TV Interactive Service
What is Sky+?

Sky Plus offers a better experience for Sky customers. You get a more powerful set-top box, which allows you to watch one satellite channel while recording another satellite channel, record programmes without videotape (onto the built-in hard disk), set up Series Link, and pause live TV (for when the phone rings).
Exceptionally versatile, and highly recommended! Go to Sky's site for details or see the Radio and Telly Sky TV page.
What's right for me?
For the widest channel line-up, it has to be Sky, but a dish may not be suitable for you. If you're looking for a good collection of extra channels without paying a monthly subscription, then we'd recommend Freeview.
More details
Bookmark this page:

Del.icio.us
|

Digg
|

StumbleUpon
|

Technorati
|

Facebook