How to Complain to the Royal Mail
One of our team had call to complain to Royal Mail about a business redirection service, and found the process extremely frustrating. As a result, we've put together a guide on how to make a complaint about a Royal Mail service, and how to take them to court.
Our Story
One of our team uses a P.O Box address for correspondence. In January 2011, he was informed by a business partner that post to his P.O Box was being returned as "Gone Away". It transpires that the Royal Mail P.O Box team failed to inform the local delivery office of the correct address to direct mail to, resulting in the loss of mail for several months.
Our story documents our experience of following the Royal Mail Complaints Procedure, and is intended to offer guidance on how to complain to Royal Mail.
First step - Customer Services
Call Royal Mail Customer Service Centre and make your complaint.
Residential Customer: Call 08457 740 740.


Business Customer: Call 08457 950 950. We had best results by selecting Option 1 "Business Customer", then Option 4 "Report a Problem"
Give your details politely to the member of call centre staff, then get a complaint number. This will look like this: 1-1234567890
From our experience, call centre staff are not able to resolve issues, just log them for someone else to address.
In our case, we next received a letter that completely failed to address the complaint. We phoned, but were only able to get a new note added to our complaint. In the end, we wrote a further four letters, and received three unhelpful replies.
We finally received a response from a Royal Mail Customer Services Manager, plus a "goodwill payment", which did not cover the refund requested.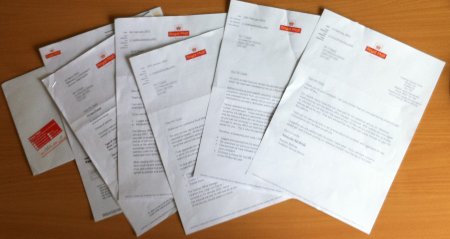 If you need to write, the address is:
Royal Mail Customer Service Centre
PO Box 740
PLYMOUTH
PL9 7YB
If you can't get your complaint resolved with Customer Services, you then start to follow the formal complaints process, as outlined on the Royal Mail Complaints Process site.
Next Step - Postal Review Panel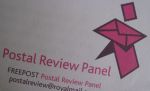 If you get no luck with Customer Services, you then go to the "Postal Review Panel". They're part of the Royal Mail, but claim to take a "fresh and impartial" look at the complaint, before giving a final judgement.
You can raise your complaints online: Link to Postal Review Panel , or by posting a letter to:
FREEPOST
Postal Review Panel
You should get a response "within 30 days", and you must have a complaint reference number (e.g. 1-1234567890) to raise a complaint with them
We tried the online method, where you fill in a form outlining the complaint (in one box) and the resolution you expect (in a second box). Make sure you keep a copy of what you've sent
After submitting our complaint, we got the following: "Thank you for submitting your details to the Postal Review Panel. Please be assured that we will now investigate the matter and a full reply will follow once our enquiries have been completed."
In our case, the Royal Mail Postal Review Panel failed to respond within their 30 day period, despite being chased. This allowed us to escalate the complaint to the regulator, PostComm. More of this later.
Once the Ombudsman service (the Postal Redress Service) got involved, the Postal Review Panel finally responded, were unable to assist, but did offer a £10 "goodwill payment" to apologise for its failure to respond within 30 days.
Frustratingly, local post offices appear to be unable to send mail to the supplied Freepost address, as there is no postcode. If you want to send your complaint by Recorded Delivery, we've managed to obtain this address:
Postal Review Panel, PO Box 644 , Dearne House, BARNSLEY S73 3BJ

Next Step - The Ombudsman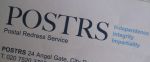 PostComm is the UK Postal Service Regulator, and complaints towards mail carriers have to go to PostComm's approved scheme, the Postal Redress Service (POSTRS). The scheme is run by an independent company, IDRS Ltd.
You can find full details of how to escalate your complaint to the Postal Redress Service here: www.postrs.org.uk
Provided that you have attempted to follow Royal Mail's complaints procedure, and have had no luck from the Postal Review Panel, you may apply for your complaint to be reviewed by the Postal Redress Service. We did this in March 2011, and received a ruling in May 2011.
Filing a complaint is straightforward. You can download a form, or apply online. We went for the online option, which then required us to submit our evidence to them. Royal Mail are then allowed to enter their defence. A copy of their defence was sent to us, and we were offered the chance to respond.
An Adjudicator was then appointed, and we received a final ruling some four weeks later. In our case, the ruling was that Royal Mail "failed to address the Customer's complaint appropriately on a number of occasions", and our claim succeeded in part.
Unfortunately, the service that Royal Mail failed to provide was deemed to be outside the scope of the Postal Redress Service, and they could not take action against Royal Mail to recover a refund for us.
They did rule that Royal Mail should offer an apology and make a compensation payment for "stress, anxiety and inconvenience".
The process for recovering the refund for a Royal Mail service outside the scope of the POSTRS, and POSTRS told us that the next step was to take Royal Mail to court.
Next Step - (Don't bother with) Senior Management
We didn't want to waste the court's time, so before we started legal action against Royal Mail, we tried one last attempt to get some sense from Royal Mail. We wrote direct to the Royal Mail Chief Executive's Office:
Moya Greene
Chief Executive
Royal Mail Group Ltd
100 Victoria Embankment
London
EC4Y 0HQ

What happened? Nothing. We got no reply, and the letter was forwarded to the Postal Review Panel. Given Royal Mail had over 120,000 complaints in the first 3 months of 2011, We're guessing that's why Moya Greene doesn't get involved.
Next Step - Taking Royal Mail to Court
This sounds drastic, but it's fairly straightforward. Before you do this, you need to write to Royal Mail to let them know you're looking to sue them. From our letter:
"This letter is written in compliance with the Practice Direction of Pre-Action Conduct, and outlines the nature of my claim against Royal Mail"

[details of claim]

"In the event that I do not receive a response from you within 14 calendar days, then I shall have no choice other than to commence court action with no further reference to Royal Mail"
By doing this, you are demonstrating that you have tried one last time to resolve the matter before going to court
Starting Proceedings
If Royal Mail don't reply positively to your pre-action letter, then you can start proceedings through the Small Claims Court by filling in a short form at www.moneyclaim.gov.uk. If you're claiming less than £300, the cost is £25 to start the process (which you should get back from Royal Mail if you win)
Once you've done this, you'll get a letter confirming that the process has started, and Royal Mail has 28 days to submit their defence to the court (or pay up!).
You'll get to see a copy of their defence, and then you can decide what happens next.
It may end up with a court hearing, and if you're an individual, you can request that the hearing is at your local court (it's expected that a National company can travel to you, not the other way around).
You may find, like we did, that Royal Mail aren't all that keen on going to court. Within two weeks of us filing the legal papers against Royal Mail, we heard from a Royal Mail lawyer asking if I'd be prepared to settle. After some negotiation, we agreed a fee, and a cheque was posted. Final step was to email MoneyClaim and stop the court action.
Royal Mail Immunity
One of Royal Mail's defences that you're like to find quoted at you, is Section 90 of the Postal Services Act 2000.
This is often referred to as the "Royal Mail Immunity Clause". Section 90(1) states:
"No proceedings in tort shall lie or, in Scotland, be competent against a universal service provider in respect of loss or damage suffered by any person in connection with the provision of a universal postal service because of—(a) anything done or omitted to be done in relation to any postal packet in the course of transmission by post, or (b) any omission to carry out arrangements for the collection of anything to be conveyed by post."
... which roughly translates to "you can't sue Royal Mail for compensation or damages if they don't deliver your stuff". You can apply for compensation under the Inland Letter Post Scheme, if you can prove it was posted, how much it was valued at, and that you complied with the rules for posting it. Even then, you can only get the 'actual loss' value, not consequential loss (e.g. time, expenses, other costs)
If you think you might fall foul of this, there's lots of useful info on this thread: ConsumerAction Group. Our claim tried to side-step this clause. We argued that Royal Mail failed to provide a service ("Supply of Goods and Services Act 1982"), and that's what we wanted refunded. The costs we sought to recover were incurred in the process of complaining (e.g. letters, phone calls, faxes, time, stationery, MCOL court costs, travel, advice, etc), not in respect of losses due to Royal Mail's failure to deliver letters. For us, the POSTRS ruling in our favour about poor customer service, supported our claim, which we're confident would have been robust if we'd gone to court.
Data Protection / Freedom of Information Requests
Royal Mail not playing ball? Need a copy of your Terms and Conditions? Need some evidence to back up your claim or court case? Ask for it!
Under the UK Data Protection Act and Freedom of Information Act, you can ask for details of what Royal Mail have on file about your complaint, or ask for a document that's not on their site. It's free to make a request, although there may be a cost if research takes a lot of time. Our request for a copy of our Customer Services case notes was fulfilled efficiently within 28 days. Details of how to make a request: Royal Mail Freedom of Information requests
Involving The Media
If your complaint is a particularly newsworthy story, likely to affect a number of consumers, or is likely to cause embarrassment to Royal Mail, contacting the media, for example Which?, BBC Watchdog and other media outlets, is a good option.
For help on getting your complaint heard, see our Consumerdeals Guide - How to complain

Feel free to add details of your complaint to our UK Company Complaints Forum
Other Links
Bookmark this page:

Del.icio.us
|

Digg
|

StumbleUpon
|

Technorati
|

Facebook