Freeview - Free to view Digital TV
Freeview offers digital TV via your TV aerial - it's free-to-view... no subscriptions or direct debits - just a one-off purchase of a Freeview receiver (from around £30).
With a Freeview set-top box, you can get over 40 TV channels and 20 radio channels - in digital quality via your TV aerial.
How to get Freeview
Coverage - To receive Freeview, you must be in a Freeview coverage area. To check this, enter your postcode at www.digitaluk.co.uk/postcodechecker/.
Box - If you are in coverage, you'll need to get a free-to-air set-top box. Boxes cost from around £30 and can be bought from high-street stores such as Currys. Shopping online for a set-top box is often the best route, as there are some good bargains to be had. See our summary of boxes below.
Connect - Plug your new Freeview set-top box to your existing TV aerial. Connect another lead to into your TV's aerial or SCART socket, and you should be ready to go. Note that in some cases, your TV aerial may not be suitable and may need upgrading.
Setup - Follow the instructions supplied with the set-top box, and scan for available Freeview channels.
Remember, there's no subscription costs, or rental agreements, so the one-off cost is all you'll pay for the extra channels.

For more on Freeview, go to Radio and Telly - where you'll find help pages, lists of new boxes & a discussion forum.
See www.radioandtelly.co.uk/freeview.html


If you're a Freeview user, you may want to have a listen to the latest FrequencyCast Podcast, which covers Freeview news and new developments in UK digital TV. Go to www.frequencycast.co.uk
Freeview channels
Entertainment
BBC One
BBC Two
ITV 1
Channel 4
Channel 5
ITV 2
ITV 3
ITV 4
BBC Three (youth, launched 9th Feb 2003)
BBC Four (in-depth cultural channel from 7pm)
E4
More 4
Film4
Yesterday
Dave (formerly UKTV G2)
Pick TV
Challenge
News / Sport
BBC News (formerly BBC News 24)
Sky News
CNN
Russia Today
Al Jazeera
BBC Parliament
Kids
CBBC
Cbeebies
Shopping
QVC
Bid TV
Price-drop TV
Music
4 music
The Music Factory
Radio
BBC Radio 1
BBC Radio 2
BBC Radio 3
BBC Radio 4
BBC Radio 4 Extra (Comedy and drama)
BBC Radio 5 Live
BBC Radio 5 Live Sports Extra
BBC Radio 6 (Album tracks, classic sessions and concerts)
BBC 1Xtra (Contemporary black music for a young audience)
BBC Asian Network
BBC World Service
Smash Hits!
KISS
Kerrang
Smooth Radio (formerly Jazz FM)
The Hits
Q
Magic
Heat
Absolute Radio
Heart
Capital FM
Interactive / Info
BBCi
Teletext Cars
FourText
Hits Extra (Interactive music and video)
A number of extra channels are available on the same system - These are provided by TopUp TV. There's also the new on-demand service, Top Up TV Anytime.


Set-top boxes
Freeview set-top boxes can be purchased for a one-off fee of between £20 and £150, depending on the features and styling you're looking for. Here is a summary of a few of the boxes available.
For a more comprehensive list, see the Radio and Telly STB list.
Bush

Range includes a basic receiver, the DFT4, at a low price of around £50.
See the Set top box page
Fusion

The DigiFusion range is a fairly recent addition to the available boxes. All of their boxes include a unique 7 Day Multi Guide EPG. The range includes a box with a built-in hard disk recorder, and a model with a DVD player onboard
See the Fusion page.

Humax

The Humax range of boxes includes a box with PVR - a built-in hard disk recorder that can record digital programmes onto itself without videotapes - also has Live pause, timeshift and slow motion.
Details: See our Humax page
More on set top boxes... Ask a question | See the box reviews | Radio and Telly STB list
Boxes are available from: Currys and Very.co.uk.
If you're looking for a cheaper alternative, you may want to try Ebay.co.uk for a bargain used OnDigital / ITVDigital box
Where ITVDigital / onDigital left off...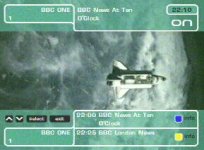 Freeview launched in October 2002, taking over from where ITVDigital and onDigital left off. Totally free to view, the service is technically more stable than ITV Digital, as the transmitter power has reportedly been increased and the channel multiplexes will be less compressed due to the lower number of channels. You can check what coverage is likely to be in your area with the DTG postcode checker
If you own an old ITV Digital / OnDigital set-top box, you'll be glad to know that you can pick up Freeview on this box without having to pay a subscription. The software on the box may now be out-of-date, and still branded as the old name, but the box should allow you to watch the new channels without having to buy a new box.
In December 2002, there was a controversial decision made by ITV Digital's Administrators, Grant Thornton, to charge £40 for you to keep your set-top box. You'll be glad to know that as of January 2003, this was reversed. Old boxes can be found at very low prices in some shops, and on Ebay.co.uk
Digital TV Links
If you're looking for an alternative to Freeview, see the Radio and Telly Digital TV site.
Information obtained from various sources. ConsumerDeals accepts no responsibility for any inaccuracies on this page, or sites linked from here.

Bookmark this page:

Del.icio.us
|

Digg
|

StumbleUpon
|

Technorati
|

Facebook