Amodo Mio Lavazza Espresso Maker Review
If you enjoy your coffee, you'll probably have a favourite coffee supplier. If you're a lover of Italian coffee, then you'll probably be a fan of either Illy or Lavazza coffee - some of the finest-tasting coffee around.
If you're looking for a decent home coffee maker that can make a tasty espresso or cappuccino with the minimum of fuss, then the Amodo Mio could be your dream machine - making a range of Lavazza Italian coffee.
In the past, we've reviewed a couple of capsule-based machines - the disappointing Tassimo machine, and more recently, the Nespresso M100 machine. The Amodo Mio is now our top choice - as we'll explain in our review.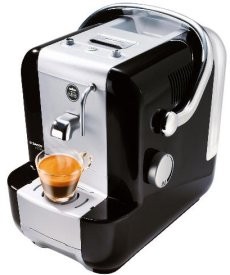 Lavazza Coffee from the Amodo Mio
The Saeco Amodo Mio Lavazza Espresso Machine is available online from the following suppliers:
Amodo Mio Lavazza Coffee Machine Reviewed:
A review by Pete, the ConsumerDeals coffee lover...
The Background
I'm not a fan of in-store product demos, but when the chap in the picture below offered me a free coffee in our local Waitrose, I was curious. I've learnt never to say no to a free coffee, and on this occasion, I'm glad I did. A decent frothy Italian coffee from a machine costing less than £100 - After a demo and a free cappuccino, I was sold.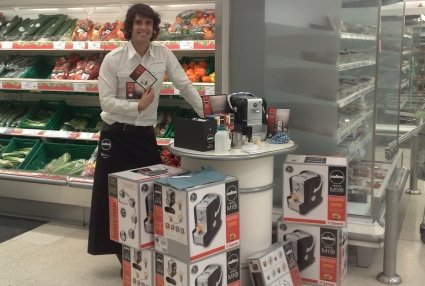 In-store demo of the Amodo Mio Lavazza machine
The Coffee:
Lavazza coffee is known as a quality coffee around the world. This coffee machine uses special Lavazza coffee capsules to deliver fresh coffee with minimal fuss. There's a whole range of Lavazza coffee capsules - here's what I've tried so far:
Appassionatamente Espresso (Red) - 100% Arabica, dark, velvety and full-bodied.
Dolcemente Caffe Creme (Brown) - 100% Arabica, well-rounded, smooth and creamy
Deliziosamente Espresso (Orange) - 100% Arabica, a perfectly balanced blend with great
aroma and strength without any bitterness
Cremosamente Dek Decaffeinated (Blue) - 100% Arabica, smooth, full bodied and rich in roasted aroma, naturally decaffeinated Lavazza
Magicamente Espresso (Dark Pink) - Medium-strength, 100% aromatic Arabica (great cappuccino)
Divinamente (Dark Purple) - 80% Arabica, 20% Robusta, a powerful roast with a
distinctive character, full-bodied with hints of chocolate
Intensamente (Dark Red) - 50% Arabica, 50% Robusta, great body, well
rounded and a richness of roasted aromas produces this exceptionally full flavoured coffee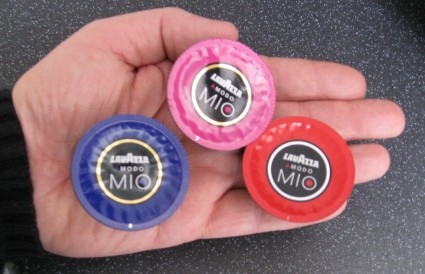 On the back of each box, you'll find a handy strength guide: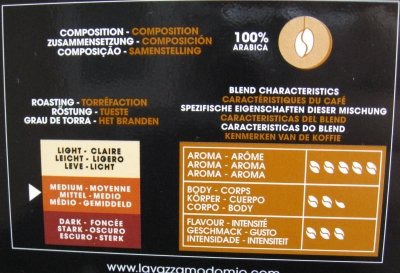 The full range of Lavazza coffee capsules are available by mail order from Lavazza (similar to the Nespresso capsules), although I've now found that some Tesco and Waitrose stores carry a limited selection.
I've yet to be disappointed with a Lavazza capsule flavour.
The machine:
The Amodo Mio is a well-made machine. at the back is a removable water tank - keep that topped with fresh water. When you're ready for a coffee, switch on, wait a minute for the water to warm, you're ready. Pop in a cartridge, pull down the large metal lever, and press the Brew button to start the flow of hot coffee.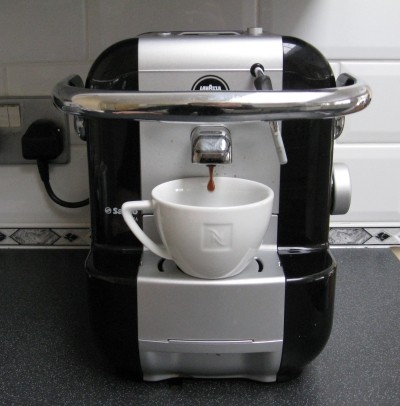 Press the Brew button again to stop the flow (there's no auto option), then enjoy your espresso. Pulling the lever back into position unlocks the used capsule and drops it into the hopper for later removal.
Cappuccino?
If you like your coffee milky and frothy, you'll be pleased to know that the Amodo Mio can make a decent cup of froth to add to your brew. For best results, get a small metal jug, and in my experience, semi-skimmed (skinny) milk makes for a lighter froth.
Here's where the only annoying thing about the device becomes apparent. If you want steam for your froth, you have to hold down the steamer button until it starts to glow. This can take up to a minute. You also can't see the button light, as you have your finger over it. Not the optimal design, it has to be said. When you're at pressure, the next action is to 'purge'.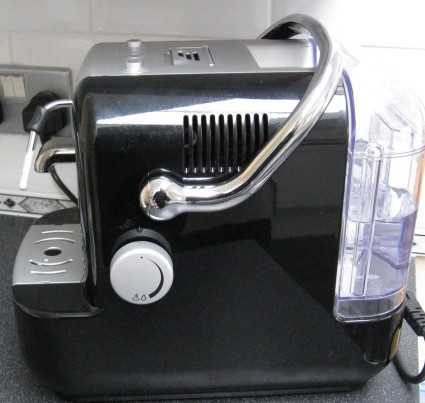 This means opening the dial on the right of the machine for a couple of seconds, which releases a jet of hot water. The trick is to purge into a spare empty cup. Then pop the steam nozzle below the surface of the milk in your jug and turn the dial again. Go deep for hot milk, then close to the surface for the froth. Turn the dial to off when you're done, pour onto the espresso, and you're away.
You can also use the Amodo Mio to make a "flat white" - like a cappuccino, but without the froth.
Want to hear the Amodo Mio in action? Have a listen to a recording of Italian coffee being made in this short audio podcast review. FrequencyCast Amodo Mio Review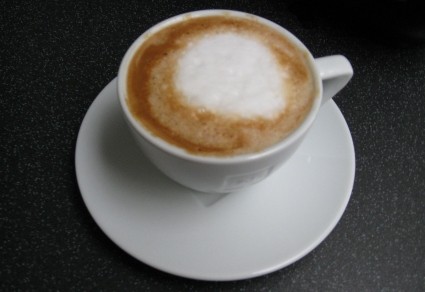 The Amodo Mio Blurb:
Here's the manufacturer's blurb on this model: The Saeco Amodo Mio Lavazza espresso machine is a compact, easy to use and stylish espresso machine incorporating a steam arm to create perfect lattes and cappuccinos. Using superior pressed ground coffee pods, the Saeco Amodo Mio Lavazza espresso machine delivers a full bodied Italian espresso in the comfort of your own home. Featuring an anti-drip device, milk frother and a capsule starter kit, this Saeco espresso machine brings authentic coffee to your home in a simple and stylish way.
Negatives?
For me, the only slightly weak link is the steam process - you'll need a spare cup for the purged hot water, and having to hold down a button for a minute, although trivial, is a little tedious. Still, it's worth it for the fine coffee produced, and it produces a better froth than the Nespresso Aeroccino, our previous preferred frother
Amodo Mio Specs:
Pressure: 15 Bar
Dimensions:

305 x 235 x 330mm

Water Capacity: 1.2 Litres
Want to hear the Amodo Mio in action? Have a listen to a recording of Italian coffee being made in this short audio podcast review. FrequencyCast Amodo Mio Review
Summary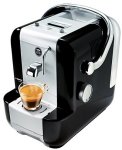 For us, it's not so much the machine, it's the coffee. This is the best tasting cappuccino we've been able to produce from a home machine - A good range of full-flavoured coffees, a well-built machine, and a nice addition to the kitchen of any coffee connoisseur.
At the time of writing, available for under £100 from Waitrose / John Lewis
Questions?
Q. Does the A Modo Mio make a decent wappuccino?
Yes, our teams reports that the A Modo Mio can make a wappuccino.

Q. Can the A Modo Mio produce hot water after making the expressso to make an americano? (Dean Burton)
Yes, the A Modo Mio machine can dispense hot water - after ejecting the coffee capsule, you can press the 'Brew' button, which delivers hot water from the same spout as the coffee. You can also get hot water from the steam nozzle by turning the dial on the side (without pressing the steam button)


Q. Does this machine have tea pods? (Craig)
No. Just coffee


Why is the coffee spout really slow?it takes ages! It's as though something is blocked! (K Oldfield)
I don't work for Lavazza, so I can only comment from my experience. The coffee speed does seem to be slow with the A Modo Mio machine. There are faster machines out there, but in my opinion, nothing that gives a better flavour for the price. If you've seen a slow-down in speed, it could be a blockage, and I've managed to get a speed increase by doing two things:

1. Run the machine through a few times without a coffee pod inserted - so pull the locking lever, and get a cup of hot water. When I do this, I get a cup or murky water with bits in. I run this a couple of times to get the bits out, and until the water starts looking clear

2. It might be time for a descale. The manual suggests a descale every 3-4 months.

Finally, the manual also suggests that if the coffee is "brewed in drips only", then either clear the dispensing spout (in case it's clogged), or 'prime' the water circuit (cup under wand, turn on steam, press brew button, run for a few seconds, turn steam knob off)
Got a question about the Lavazza A Modo Mio? Something we've missed from our review? Get in touch and we'll try to help!
Bookmark this page:

Del.icio.us
|

Digg
|

StumbleUpon
|

Technorati
|

Facebook