Nintendo 3DS, DSi, DS and GBA Consoles
This page provides information on the Nintendo range of handheld games consoles, including the Nintendo 3DS, Nintendo DSi, Nintendo DS and GBA. Links to the lowest prices for purchasing the consoles, games and accessories in the UK.
Nintendo's handheld consoles
Nintendo's Game Boy Advance was released in June 2001, continuing the popularity of the original Game Boy, then Game Boy Color. It was a true 32-bit graphics games console, that fits in the pocket.
A version known as Game Boy Advance SP, with backlight and built-in rechargeable battery, was launched in March 2003. This was followed by the touchscreen Nintendo DS in 2005, the Nintendo DS Lite and the Game Boy Micro.
In 2009, the wi-fi enabled Nintendo DSi was launched, and 2011 saw the launch of the Nintendo 3DS for 3D gaming without the need for 3D glasses.





Nintendo 3DS

The Nintendo 3DS launched in the UK on the 25th of March 2011 - The strong selling point for this console is 3D - Play games in 3D without the need for 3D glasses.

As well as supporting 3D games, the 3DS comes with a stereo camera (for 3D photos), improved wi-fi and two new sensors for games (motion detector and gyro). The Nintendo 3DS looks set to be a serious mobile gaming console.

You can order Nintendo 3DS from the following online retailers:

Want to know more? Listen to the 10 minute podcast review: Nintendo 3DS Audio Review






Nintendo DSi

The Nintendo DSi launched in the UK in April 2009. Like the DS Lite, this has two screens, but this model adds two cameras, wi-fi connectivity, support for SD cards, and some new software for audio and image editing.

Review: Podcast review at FrequencyCast - Details

You can get the DSi from the following online retailers:




Nintendo DS Lite

Nintendo DS launched in the UK on the 11th March 2005, with a retail price of £99. This machine followed on from the success of the GBA SP, has two screens (for compatible games), one of the a touchpad, and comes with wireless messaging software called PictoChat.

Existing GBA games are compatible, but won't take advantage of the DS's extra screen. The lower DS screen is a touchscreen, and the DS adds stereo speakers and a built-in microphone.

The DS Lite became available in 2006, with a slimmer smaller styling.

Game Boy Micro

The Game Boy Micro launched in the UK in November 2005. This is an even more pocketable games console, and supports the GBA games cartridges.

Game Boy Advance SP

This console became available in the UK in March 2003. Features include:

Handheld video game console with flip-top screen
Built-in screen light with on/off switch
Rechargeable lithium-ion battery (included) offers 10-18 hours of continuous play
32-bit RISC CPU
Backward-compatible - plays all Game Boy/Game Boy Advance games

Availability: Try Amazon and Ebay.co.uk.

Game Boy Advance

First appearing in June 2001 in the UK, this is still a very popular and powerful handheld console. This was available in Blue, Clear blue, White, Pink, Platinum and Black

The colour handheld electronic gaming console with 32-bit graphics and built-in stereo speakers was priced around £99. You may still be able to pick up one at Amazon or on Ebay.co.uk.
We recommend: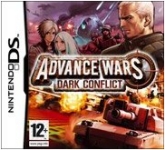 Best game for Nintendo DS or GBA: Advance Wars Dark Conflict

This is the fourth in the family of "Advance Wars" games. If you've not tried "Advance Wars" - it's a war strategy game - buy troops, tanks, aircraft and ships, and battle against computer opponents. You can also play with others by passing the console to a chum. Hugely additive and well worth trying.
"Dark Conflict" is a little more dark than the earlier "Advance Wars" games. Still top gameplay, and amazingly additive - all new COs, real-time Combat mode and more battle skills. Dark Conflict makes use of the DS touch screen, which aids until selection and provides an info display using the top screen while you play.
Advance Wars Dark Conflict is available from GAME , Amazon and Play.com.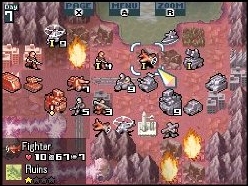 Nintendo Handheld Consoles Links:
Games

Recommended for games:

Accessories
Recommended for accessories: Amazon

Other sites
Official site: www.gameboyadvance.com

For second-hand and bargain games and accessories: Ebay.co.uk

Compare GBA prices online with Kelkoo
Bookmark this page:

Del.icio.us
|

Digg
|

StumbleUpon
|

Technorati
|

Facebook