Oral-B Triumph 9900 Toothbrush Review
On this page, you'll find a review of Braun's Oral-B Triumph SmartGuide 9900 professional care toothbrush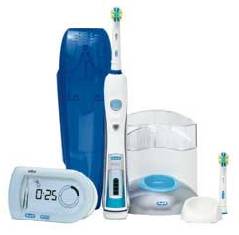 Has the world gone crazy? This is probably the most technically-advanced toothbrush in the world - it contains a wireless transmitter, and on-handset digital display, and a separate digital display unit to display tooth-cleaning status information.
Do you really need a Bluetooth-enabled toothbrush, or is this just a gimmick for those with more money than teeth? We take a look at what Braun's Oral-B SmartGuide toothbrush is all about.
What is the Oral-B SmartGuide?
Essentially, it's a very clever toothbrush that uses a radio transmitter in the toothbrush handle to transmit information to a wireless display. This allows you to see while-you-brush feedback to optimise your brushing habits. Clever stuff, although whether you really need a digital display to tell you how to brush your teeth.
Sounding like something out of a bad TV ad, the Oral-B SmartGuide 9900 has "patented MicroPulse bristles" that vibrate 40,000 times a minute.
Deals on the Oral-B Triumph SmartGuide 9900

Originally priced at £139, this is now available for about half that price, as at the time of writing, it's on special offer in a few places. try:
Oral B Triumph SmartGuide Features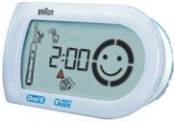 Here are the features boasted by this toothbrush:
Remote display (wall-mountable)
On-screen alert if you're applying too much pressure
Quadrant guide - telling you which part of the mouth to clean
Digital brushing timer, ensuring the recommended two minutes
Brushing modes: Standard clean, Sensitive, Gum massage and Polish
Removable, colour-coded heads, so each household only needs one handle
Battery charge indicator on the toothbrush
Digital clock

Oral B SmartGuide Review
According to the box, Oral-B is the number 1 brand for electrical toothbrushes recommended by UK dentists. This advanced teeth cleaning system has a unique 3D action, pulsates at 40,000 times a minutes, and has 8,800 side-to-side movements per minute. It also uses FlossAction technology... No, we didn't know what this is either, but the paperwork claims:" A step beyond normal bushing, this offers outstanding plaque removal, outstanding interdental clean, and it helps to keep gums healthy".
Enough of the technobabble - does it actually work? Here's what Steve, our toothbrushing expert had to say: Before using this brush, I was using a Philips Sonicare brush, which offered a good clean. Compared with the Philips, this is a top clean. The head is one of those circular ones, rather than the more traditional toothbrush shape, and does give a good clean.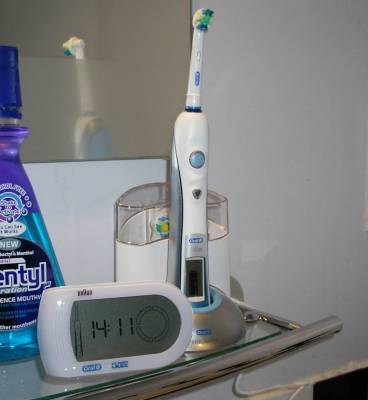 Starting off a clean, one quarter of the digital display tells you which bit of the mouth to concentrate on, and after 30 seconds, you're prompted on-screen and by a handset vibration to move onto another section. Depending on who you are, you'll either find this condescending, or a great way of ensuring some discipline After our scepticism, actually this does make you focus on proper cleaning, so has some value. You get a little red warning icon if you're pressing too hard, and a nice little smiley face when you've completed your two minute cycle.

This certainly gives a good brush - a little more rough than the clean with the Philips Sonicare (in a good way - it feels less like a polish, and more of a clean). the brush head looks a little vicious, but is fine. There's also a polish brush supplied, to be used with the brush's Polish mode.
The Oral-B SmartGuide brush is supplied with one cleaning head, and one polish head, and the base unit can cope with holding four heads. The heads contain some kind of magic sensor to tell the handle which head is connected, so it switches to the appropriate brushing mode. The blue bits on the brush head change over time, to let you know that's time for a new brush head.
Our verdict? Yes - a win. It gives a good clean, and does indeed help to promote good cleaning. Originally priced at £140, this is probably a little pricey, but there are some good half-price bargains around if you shop online, and at £70, it's good value for money. Clever stuff, and those keen on oral hygiene should give this serious consideration.
More Details
Brush unit: Four segment battery display, on/off button and a mode selection button (Clean, Sensitive, Massage, Polish modes)
Digital unit: The digital display unit shows a clock when idle, and when cleaning tells you how much time you've been brushing or how much brushing time of the recommended two minutes remains. It also identifies when it's time to change the brushing head, if you're applying too much pressure, what cleaning mode you're in, a 'Quadrant circle' (which quarter of your mouth you should be focusing on), and when your battery is low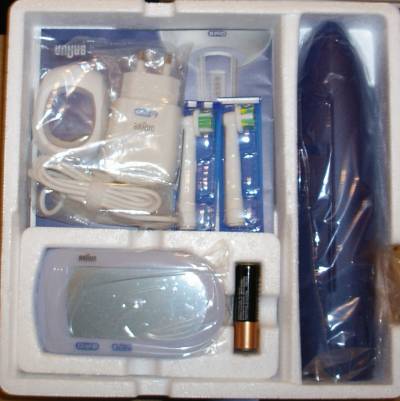 Supplied with: brush unit, wireless digital display unit, charging lead, base station, storage for four heads, two brush heads (FlossAction and ProBright), travel case.
Oral-B Triumph FAQ
A collection of questions we've been asked by site visitors:
Warranty: The Oral-B Triumph 9900 comes with a 2 year warranty in the UK and Ireland.


Power: A question from site visitor Libby: "I don't have a plug of any kind in my bathroom. Would this be a problem for the Oral B Triumph 9900 or do all the features work through the rechargeable batteries?"
The Oral B Triumph is a rechargeable toothbrush. It sits in a base unit that required mains power. The base unit comes with a two-pin shaver plug. If you don't have a shaver socket in the bathroom, you can plug it into any mains socket using a Shaver adapter. Assuming normal use, you'll get around 2 weeks of use from a single charge. The toothbrush can be sited in the bathroom, and moved to the charger when a charge is needed.



Multiple toothbrushes? The Oral B Triumph has removal brush heads, so the family can have their own colourcoded brush head, and you only need a single Triumph brush handle. If you happen to want multiple Triumph toothbrush handles, they must be synchronised to a Smartguide display unit. Without doing this step, if you have multiple display units, they may start picking up information from the wrong brush handle.
A maximum of two Oral B Triumph 9900 handles can be synchronised with a single SmartGuide display. Note that we understand that the 9500 model can't be paired to a SmartGuide unit.


Sensitive Teeth? Site visitor Tony asked: "will it make my sensitive teeth more sensitive?" The manual doesn't have much to say on the subject. Here's what the guide says: "Sensitive mode - Gentle, yet thorough cleaning for sensitive areas." If in doubt, perhaps call Oral-B Customer services on 0800 731 1792


When to change brush head: Note that the Smart Guide display doesn't tell you on-screen when you need to change head. Instead, look at the brush bristles. As they wear out, the colour changes to indicate that it's time to replace it.


Head removal: To remove a worn head, grip the head firmly and pull from the main toothbrush unit. The head detaches at the coloured ring.


Spares and replacements? You can get spare Oral B heads and flossers from online stores such as Boots and Argos. You can also find spare heads and other spares at Currys Partmaster site.
If you need spares such as a charger or docking station, or a manual, best to contact Braun Service UK


Charge time. Stephen asks: "Currently I own an electric Oral-B toothbrush and the recommended charge time is 16 hours (it's truly unbearable when you forget to charge it) and this lasts you two brushes a day before the thing begins to slow down. Can you tell me the charge time of the Oral-B Triumph?" The Oral B Triumph manual states that a full charge takes at least 12 hours, and allows for approximately two weeks of brushing (twice a day for 2 minutes).


Batteries: We've been asked what type of rechargeable battery the brush uses? Is the battery user-replaceable? The battery is built in to the handle. It's a Hi-MH battery, and is not user-replaceable.


Customer Services: Looking for the phone number for Oral-B customer service? The Oral-B is made by Braun, so you'll need Braun Customer Service. The UK free phone number for Braun is 0800 731 1792, or for Ireland, 1 800 509 448. The postal address is Braun, PO Box 504, Leicester Le94 0AE
Bookmark this page:

Del.icio.us
|

Digg
|

StumbleUpon
|

Technorati
|

Facebook