Pentax Optio SVi Camera
This is currently our favourite compact digital camera - two strong selling point: the Pentax name, and the facts that it's the only compact camera we could find with an impressive 5 x optical zoom. Most compact digitals come with 3 x optical zoom, but after using 3 x zoom camera, we found we wanted more, and the SVi delivers.
The Pentax Optio SVI offers great performance, and has a good balance of being easy to use as a point-and-shoot, as well as offering strong picture customisation for those looking for greater control.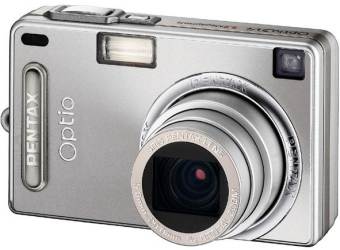 With a 5x optical zoom, 5 megapixel sensor and macro range starting at 3 cm, the Optio SVI will allow you to get the best shots in any situation. the camera has thirteen preset picture modes will provide you with the parameters for different lighting conditions and types of shot, and includes a video mode with sound with a fluid motion of 30 frames per second. The Optio SVI offers a maximum range of possibilities in a minimalist compact body.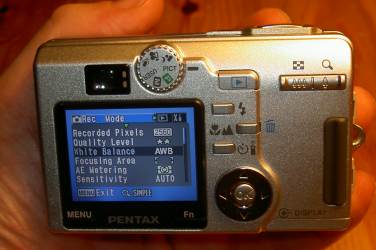 On our photography page, we offer advice on choosing a digital camera - this Pentax ticks all of our boxes, as it has:
A manual viewfinder (the screen is great but in bright light, you can't beat a manual viewfinder)
5 Megapixel
Good zoom (5 x Optical in a compact is very impressive!)
A removable, rechargeable battery, so you can keep a spare on you, and not eat up AA batteries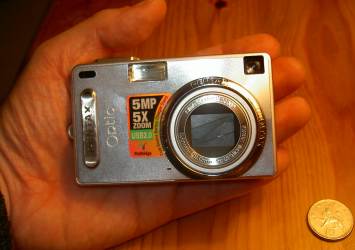 The Specs:
Dimensions: 92 x 28 x 56 mm

Weight: 150 g

Supports: SD Memory Card (32Meg supplied)

Resolution: 5.0 Megapixel

Movie: Yes (AVI format, with audio)

Lens Aperture: F/2.8-4.7

Min Focus Range: 60 cm

Focal Length: 5.8 mm - 29 mm

Zoom: 5 x Optical / 4 x Digital
Display: LCD TFT active matrix - 1.8" - colour

Battery: Li-ion rechargeable battery - 710 mAh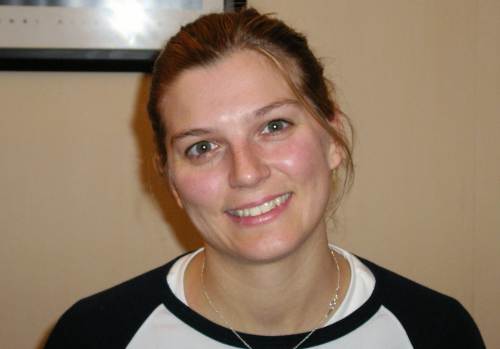 Indoor pic taken on the SVi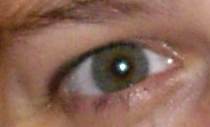 The eye, zoomed in to show detail

In summary, there's a lot to recommend this camera - the only real downside, is that it's not the fastest camera around, as it makes 3 or 4 seconds to warm up when switched on... otherwise our initial trials of this Optio model have been very impressive.
Help? If you're thinking of buying this camera and have any questions about its features, please ask us, and we'll try to help

Frequently asked questions
| | |
| --- | --- |
| Accessories | If you're looking for accessories for the OptioSVi, there's quite a range available - we'd certainly recommend you invest in a spare rechargeable battery . You can also get a case, card reader, extra leads, docking station and case, as well as extra SD cards. |
| Removing SD card | To remove the SD card, open the battery compartment (there's a slider underneath - bottom right). This reveals the battery and SD card slots. Press the top of the Sd card down with your thumb, and it should pop out. |
Bookmark this page:

Del.icio.us
|

Digg
|

StumbleUpon
|

Technorati
|

Facebook