We called, but you were out. Deal with it!
This page deals with one of our pet hates - mail order delivery.
I remember a radio sketch from back in the eighties, that featured an irate consumer asking the question: "How come that even though Britain owns, or part-owns, 48 geostationary communication satellites, I still had to wait in for three hours for the gas man?"...

The Problem With Mail Order...
I love Internet shopping - not only do you get cheaper stuff and a better choice - you also don't have to lug stuff home yourself. The downside is that you have to be there when the little chap in the courier van turns up. And that's the hard bit.
Now I'm not having a go at the courier companies - the logistics in shifting thousands of packages around the world in 24 hours is frightening. I'm also not having a go at online retailers, who have stock issues and distribution headaches. I'm not even complaining about companies that fail to turn up on the day that you're expecting (although that's really annoying)... I'm having a go at the system in general. It's the silliness of things like the following:
Companies that offer "delivery within 2-3 days" - Well, which is it? And does that include the weekend?
Companies that say "your order has been dispatched", but not how it's being delivered (Royal Mail, Courier, 24 hours?)
Companies that let you order when there's no stock, but don't tell you that it's back in stock and they shipped it - the first you know is when you get the "we tried to deliver but..." card
Failed deliveries where the little boxes aren't ticked so there's no clues - so you drive to the sorting office to get a bit of junk mail that the kind postie didn't want to fold or leave outside, when you were expecting to be picking up your hi-fi.
Couriers that aren't flexible. "We can't deliver to your work address. We don't deliver on Saturdays. You can't collect from our depot"
Couriers websites that let you view online tracking... that's a day out of date
We all have to work, and it's not always possible to take a day off work waiting for the knock on the door. I've lost count of the number of days I've either:
Waited in for a courier that didn't show
Faffed about with parcel-tracking websites and "we called but..." cards
Spoken to a courier's head office to arrange redelivery - and got very frustrated
Tried to get a number for the courier's depot (not the call centre)
Driven to a depot on a Saturday to collect something a courier wouldn't send out at a weekend
The Answer?
We're not trying to start a campaign, or change the world here - this is one of those "wouldn't it be nice if". If you know of any retailers and couriers that do the following, let us know, and they can have our business!
A retailer that quotes an accurate delivery estimate, and tells you when the items's dispatched
A retailer that emails you a tracking number, and tells you the company/tariff that will be delivering
A retailer that provides the option to pass on your mobile number to the courier, so they can call you if you're out, or to check you're in (cheaper than them driving miles to find you're out)
A courier that acknowledges people work from 9-5, and offers evening and weekend deliveries
A retailer that mails you after delivery to check you got the goods, and find out when the courier turned up (to improve their performance, and estimates)

Some information on courier re-deliveries:
Royal Mail

Get started with Royal Mail Trace and Track . If you have something to add, please contact us



Parcelforce

If you need to get a package redelivered, the Parcelforce site is quite useful:

DHL

To arrange redelivery, you should call the number on the redelivery card. In our area, this is direct to our local depot.
To arrange redelivery, you can also call Customer Services. DHL Customer Services on 0844 2480555. Enter tracking number into automated system. Then press 0 to get to a human. They can arrange to send an electronic message to the appropriate depot.
DHL: Used by: Amazon / Pixmania

Thanks to Jon Hatfield for the following, based on a call he had with DHL: "Here is a DHL re-delivery tip - leave a piece of paper on door saying please leave by door, and if you have signed it (to accept loss/damage) they will leave it by door"
Andrea responds with: "I read on your site that if you write on a note for the driver to leave the package somewhere safe and sign the note, they'll leave it there. This wasn't the case for me! They refuse to leave it without me signing for it in front of them."



Securicor Omega

To arrange redelivery, try either of the following numbers: 0870 2400 555 or 0870 444 4366



Initial City Link
No information on CityLink yet. If you have something to add, please contact us


FedEx

No information yet. If you have something to add, please contact us


Case Study - Pixmania & DHL
An order placed before 1pm on the 6th July for Express Delivery (24-48h) showed as "dispatched" on the retailer's website on the 6th, but wasn't collected by the courier until 22 hours later. The parcel apparently bounced in and out of Paris for 7 hours. The next entry, 62 hours later, shows the parcel in hands of the courier in Gatwick followed less than two hours later by a failed deliver (not in Gatwick as stated, but in East Essex).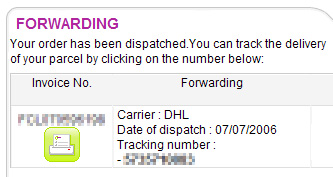 My problem: As the retailer's site said "shipped" on the 6th, I thought it may arrive on the 7th, and took the day off to wait. Next morning, it transpired it hadn't been collected. I couldn't find out if DHL would be delivering on Saturday, so waited around. I had to make a judgment call about waiting in on Monday, and checked the tracking through the weekend. No sign that it had left Paris by Monday morning, so I thought it'd be safe to head to work. Next entry at 9am showed 'Gatwick', so I assumed it'd be at least half a day to get Essex, and would therefore be on Tuesday's delivery run - but two hours later - a failed delivery in Essex.
Take another look at DHL's tracking - does each entry make sense? If DHL had added "left France", "arrived in UK" and "scheduled for delivery today" to the tracking, I'd have known what was going on. Even better, if the retailer had shown a delivery estimate, or shown the actual day of dispatch correctly, I'd have known when to expect delivery.
Rant over. Comments? Please use our forum. If you have a snippet to add on a courier, please contact us, and we'll add it
Visitor comments:
Thanks to Jonathan Eden for the following:
"City Link yesterday (a Friday) supposedly "Delivered" my parcel and have Proof Of Delivery. Very impressive, except that they have gone to a house where I don't live and allowed someone to who is not me to sign a completely different name and Citylink were lost/confused, have not checked the address nor the identity of the receiver and the person receiving seems to have happily done so because they have taken something they did not order, to a name and address that is not theirs! But hey, that's OK because Citylink have a POD to prove it!

There's now nothing I can do about this idiocy or fraud until Monday. Citylink's drivers should try reading the info in front of them, try finding the addresses they're meant to reach and shouldn't accept some name and signature at the door that in no way relates to the person who paid the money for the product!"

Thanks to Valerie Spruce for this:
I was waiting for a parcel from citylink, which was meant to be a next day delivery. I waited in 2 days and nothing came. In that time I contacted the company I'd bought from, City link themselves and my local depot. They all told me the same: the parcel is on the van still and Citylink is in your area and when its a consumer and not business they tend to run late.

On their website this is what they say: City Link is the UK s leading Premium Express Delivery Company providing high quality, flexible and innovative courier services across the UK, Ireland and Worldwide. City Link has been successfully delivering your documents, parcels, pallets and freight throughout the world since 1969. You can track online, customer services will give you an ETA up to 8.00pm.Saturday services can only be specified by the sender. You can however collect the parcel from the depot with certain I.D. (providing of course they can find it). And the first attempt of a missed delivery, according to citylink will be re-attempted the next day.
We also heard from Jude Bland:
No company can give an "accurate" time for delivery unless they themselves operate their own delivery service. All Mail order companies are at the mercy of the carriers on this one. Royal Mail Track & Trace - doesn't. They can only say when an item was sent and when it was delivered. They are completely unable to "trace" any item. Nor do they give adequate compensation to the company sending out the goods. Only the end-customer, the intended recipient who has bought the goods can get compensation for the value of the goods.

Many companies are too small to get decent prices from the private carriers. So they go to one of the mail consolidating companies. However if an order goes astray, they have no access to the carrying company who was actually responsible for the delivery as their contract is with the consolidator - who don't give a damn as they've already got their money from the sending company and aren't responsible for paying out compensation.

What you are therefore asking for is simply unachievable.
Thanks to Steve Bennett for the following:
City link are a joke with a seriously flawed tracker system and rubbish customer service. I had ordered items online and received an e mail from city link to say that the parcel would be delivered on thurs 15/12, I was at home all day but nothing got delivered, I was at home all day the following day but again no delivery.

I checked the parcel tracker on the city link site which stated the parcel was delivered on thurday 15/12 at 15.03, I then tried to phone the help line to explain that the parcel had not been delivered but after going through the automated service I was put on hold for 10 mins then the line went dead, several more attempts with the same result, I checked the tracker again this morning (mon 19/12) and the tracking details had changed and now stated the parcel was delivered and signed for on friday 16/12 but I still havent received a thing. Tried the help line again this morning but after 15 mins on hold the call got severed again!
Other links
Bookmark this page:

Del.icio.us
|

Digg
|

StumbleUpon
|

Technorati
|

Facebook