Fitbug, the Unique Fitness Programme Reviewed
Fitbug combines a pedometer and online service to help manage your fitness routine. On this page, we look at the FitBug proposition and see just what it offers.
Fitbug - Your step-by-step route to health and wellbeing
With today's hectic pace of life it's often hard to keep track of your fitness goals. Whether you're trying to lose weight or just want to keep in trim, staying motivated is often the most difficult hurdle you'll face.
Fitbug is a new service that harnesses the power of technology to make monitoring your health and wellbeing as simple as possible.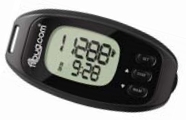 When you sign up for the service, you'll be given a "Bug", a discrete digital display pedometer that fits easily in your pocket and constantly keeps track of your activity levels throughout the day.
As part of the programme, Fitbug monitors your daily activity and encourages you to slowly increasing the amount of steps you take each day. As you follow Fitbug's exercise and healthy eating advice, the service should help you get fitter, slimmer and healthier.
Fitbug launched in 2005, and their service is suitable for everyone irrespective of age, gender, location or physical fitness.
How to get a Fitbug

The Fitbug itself costs around £25, but the best deal is to sign up to the Fitbug annual package which includes site subscription and a free bug
Full details and pricing at www.fitbug.com
Fitbug Review
Fitbug works through the use of a little gadget that records all of the exercise that you do. Compared to a standard pedometer, it's pretty clever, as it lets you upload the results of your daily exercise to the Fitbug website at Fitbug.com, where you can see how well you're progressing against your target. The Fitbug pedometer has a USB socket for transfer of data to your PC or Mac.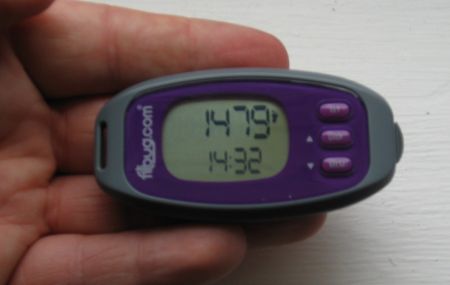 The Fitbug
By uploading your Bug data to the Fitbug website, their team of experts can assess your progress and set you realistic goals for the week ahead that you can easily incorporate into your daily routine.
You can also use the website to log your eating habits, allowing Fitbug to build up a comprehensive overview of your calorie intake and expenditure. With informative graphs and diagrams generated from your data, you can see at a glance what your current fitness levels are and just how far you need to go to achieve your health ambitions.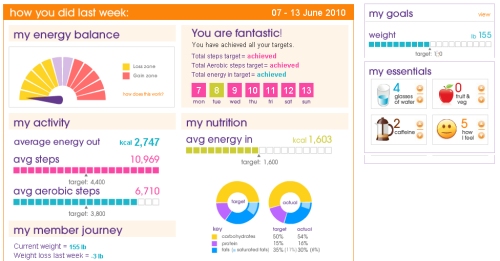 Screenshot of the Fitbug Progress Screen
Fitbug will send you feedback and encouragement via emails and texts throughout each week, helping you to stay focused on your goals and maintain your motivation from day to day. You'll also gain access to the Fitbug Community, where you can share your successes with fellow Fitbug members and share handy health tips and advice.
As an added bonus, as you work towards your daily goals you can earn free Nectar points, giving you a further incentive to stick to your programme.
Earn Nectar Points with Fitbug

Nectar, the UK's leading loyalty programme, offers collectors the chance to earn Nectar points just for maintaining a healthy lifestyle.
Nectar collectors can earn 1,000 points just for signing up to Fitbug, if you're serious about leading a healthier lifestyle, you can collect up to an additional 80 points a week! Ten points for 12,000 steps. Take more than 10,000 steps a day, five times a week and receive an additional ten bonus points.
Specifically designed to be as easy to follow as possible, the Fitbug fitness plan is a virtual health coach that helps you incorporate exercise into your everyday life as seamlessly as possible.
We've been using Fitbug for a number of weeks now (you can hear our hands-on audio review at FrequencyCast), and we've found that the site, texts and emails do actually help motivate to work to defined targets. Fitbug also carries an endorsement from healthcare professionals at BUPA, which is welcome news.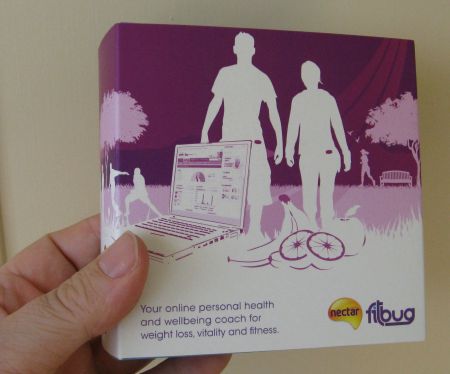 The Fitbug Packaging
The Fitbug itself is pretty robust - ours has survived several drops from waist height on a couple of occasions, and now lives in a pocket. The Bug has enough memory to hold several days worth of activity information, and if you don't upload your data for a couple of days, you'll get a text message nagging you to sync your big.
Fitbug is supplied with one bug, a wrist strap, a belt clip (which isn't quite strong enough), a welcome guide and a micro USB lead. The Fitbug application works with PC and Macs.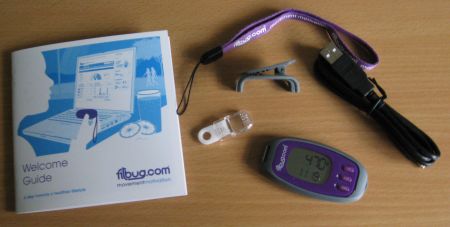 Contents of the Fitbug box
So far, we've been impressed with what the Fitbug proposition, and are happy to recommend it. More details at www.fitbug.com
Want to hear a review of the Fitbug? Have a listen to our feature in Show 53 of our audio podcast. FrequencyCast Show 53
Other Links
Salter MiBody - A clever set of scales to help control your weight and health
Bookmark this page:

Del.icio.us
|

Digg
|

StumbleUpon
|

Technorati
|

Facebook