HoMedics Swedish Style Chair Massager Review
Soothe away tired muscles by adding a massager to your office chair. Our look at the Swedish-style chair massager from HoMedics

This is the life.
I'm writing this review from the comfort of my home office. On my desk is a home-made cappuccino, and these words are appearing hands-free using dictation software. At the same time, I'm enjoying a Swedish massage.

Normally writing reviews from my home office, in my fake leather office chair is an okay experience, but now I can enjoy a back massage while I work.
I'm able to experience this luxury as a result of splashing out on a HoMedics Swedish-style back massager.
The model I'm using is the snappily-named QRM-409H-3GB, or as it's better known, the Swedish Style Soft Smooth Massager.
Essentially, what we have here is a padded device that uses a Velcro strap to secure itself to a standard office chair. The larger part of the unit straps to the chair's back support, with a small cushion for the chair seat.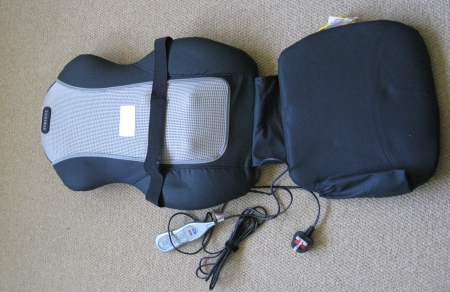 Rather disconcertingly, you're expected to plug a chair into the mains (no electric chair jokes, please). Once plugged in, four balls glow a nice blue colour. Attached to the chair by a short wire is a grey controller that's used to get this seat accessory to do your bidding. The four coloured balls are actually independent rollers as that travel up and down your back to massage your back, while you sit.
On the remote control, There are several buttons, some of which control the Swedish massage zone setting (full, upper and lower back), and others that control the standard 'rolling' massage, which also has a full upper and lower back mode.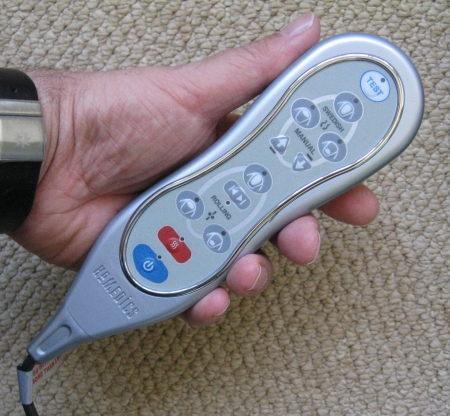 Sitting on my office chair, without the unit engaged is not overly comfortable, so I tend to find that removing the massager, unless I am feeling partial to a massage is the best option. When I am in the mood for a massage to soothe the tired muscles of working away at ConsumerDeals, strapping the device to the back of the chair takes just a few seconds. I can then sit down, press my back gently against the massager and press my favourite button - the full-back Swedish massage. On the remote, there is a red 'heat' button which when pressed in parallel with the Swedish massage button, adds soothing heat to the treatment, and turns the blue balls to a warming red. The four independent balls roll against your back, whilst gentle heat is applied, to provide a surprisingly enjoyable massage. There is setting on the remote control to alter the width to ensure that your back gets the right coverage. There's also a 'spot massage' for those tricky bits that need extra loving warmth.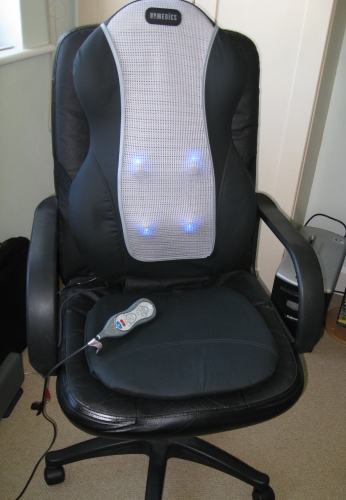 The rolling massage is a nice alternative to the Swedish style massage. It is not quite as relaxing and travels up and down your back in a straight line, but does feel like your back is getting a good workout. This is in contrast to the Swedish mode, which feels more like firm swirling thumbs either side of your backbone.
Apart from the fact that, when off, the device is not overly comfortable, the only other issue worthy of report is the noise that the massager generates. Although not overly noisy or intrusive, it does slightly ruin the illusion that I have of a blonde Scandinavian masseuse working away on my back.
So far, I am very impressed with the HoMedics Swedish-style massager, and there is something rather decadent about sitting here working whilst having a warming massage in my office chair. There's an odd note in the manual warning that the chair should not be used before going to bed as the massage has a simulating effect and can delay sleep. Personally, I find it rather relaxing, but maybe that's just me.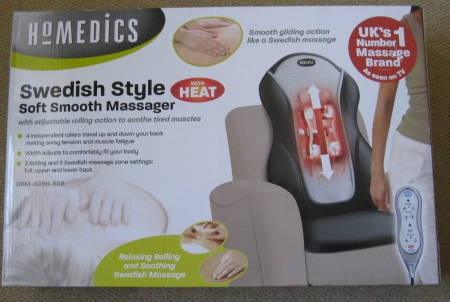 The manual also warns that the device should not be used by those with pacemakers, or by pregnant women without consulting a doctor. Those with poor blood circulation should avoid, and it should be used directly on swollen or inflamed areas or skin eruptions. The product makes no medical or health claims - it's intended to provide a soothing massage to worn muscles.
The HoMedics Swedish Style Massager is available online from the following suppliers:
Fitting easily to the back of most office chairs, this is a rather nice and luxurious way of melting away tension and muscle fatigue in the comfort of your own office chair.
Bookmark this page:

Del.icio.us
|

Digg
|

StumbleUpon
|

Technorati
|

Facebook