CitiBank UK Information
This page contains information on UK bank Citibank.
Benefits of the Citibank Direct Current Account:
Impressive interest rates on your current account, with no catches and no strings attached.
£500 interest-free overdraft buffer
24 hour a day Internet and phone banking
No charge for day-to-day banking
Access to Euro, USD and other currency accounts for transactions and savings
Mobile banking with email and SMS alerts
No minimum deposit or requirement to transfer salary into account
At the time of writing, Citibank is also offering a free iPod Nano with new accounts. Details at www.citibank.co.uk.
Managing your account online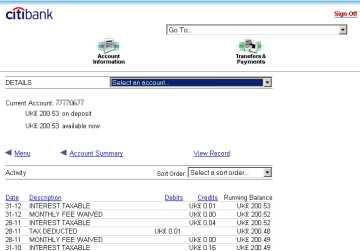 Screenshot of Citibank online statement
Bookmark this page:

Del.icio.us
|

Digg
|

StumbleUpon
|

Technorati
|

Facebook