Egg Credit Card Information
This page contains information on the Egg Credit Card
ConsumerDeals used to be a big fan of the Egg card mainly because at the time it offered one of the best deals around. After reviewing the card, the card's cashback rate reduced, and in September 2005, the cashback feature was removed altogether (except for a shopping on a handful of online retailers).
The card still has some good points, and is worth considering, but it's a little less of a top card as it once was. For a look at some better deals on cashback cards, see our Credit Card section.
Here's the rest of our look at the Egg Credit Card:

One selling point is that Egg account holders can benefit from Egg's Money Management system - a website that allow you to access all of your online bank and credit card accounts from a single page.
Egg Benefits
Up to 10% cashback from selected retailers
Manage your account online and via Sky Digital
No annual fee
More details at www.egg.com
Alternatives to Egg
We recommend the Tesco Clubcard Credit Card:
Managing your Egg account online
Best feature of any UK online operation we've seen, is Egg's Money Manager. This lets you consolidate all of your online bank accounts, savings and credit cards into just one login.
Supported accounts include (at the time of writing): Abbey National, Alliance and Leicester, American Express, Bank of Scotland, Barclaycard, Barclays Bank, Cahoot, Capital One, Charcol Online, CitiBank, Co-operative Bank, First Direct, FT Portfolio, Goldfish, Halifax, HSBC, Intelligent Finance, Lloyds TSB, Marbles, Marks and Spencer, MBNA, Morgan Stanley Cards, National Westminster, Nationwide, Northern Rock, Royal Bank of Scotland, Smile, Standard Life Bank, Virgin Money, the Woolwich and Yorkshire Bank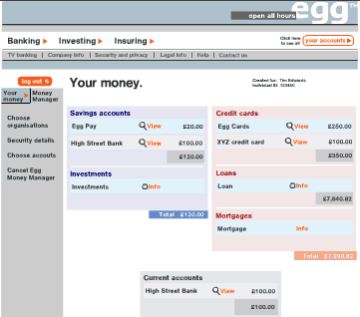 Screenshot of Egg Money Manager summary screen
For more on the Egg credit card, see www.egg.com
Related links
Bookmark this page:

Del.icio.us
|

Digg
|

StumbleUpon
|

Technorati
|

Facebook