first direct information
This page contains information on the online bank, firstdirect. We've included a review from one of our team, who's been a loyal firstdirect customer for many years
First Direct has been providing a 24 hour banking service since 1989. With no branches - banking's made simple with 24 telephone banking that never closes, a simple-to-use online Internet service, and a text message service.
First Direct offers current, savings, credit card loan and mortgage accounts, and is one of the UK's most commonly recommended banks.
Headlines
24 hour, 365 day a year banking by phone and Internet
A real person every time they call, no scripts, no "press the # key"
SMS text message mini-statements sent to your mobile phone

Overdraft
Automatic £250 fee-free overdraft.
Other services
Online share dealing, smart mortgage, ISA, investment, pensions - all online or over the phone
Review of First Direct's Bank Account
According to their press ads, first direct gets recommended by existing customers every six seconds, and I'm one of those customers. I've been with First Direct more or less since their launch over twenty years ago. At that time, the idea of 'branchless' banking had an appeal - For me, the biggest selling point of First Direct, and the key reason I recommend them, is the fact that they provide easy access to your account, 24 hours a day.
Prior to moving to First Direct, dealing with my daily finances was a hassle - dealing with cheques, and fitting in with my branch's opening hours. The idea of fitting in with standard high-street banking hours fills me with dread, but the option to manage an account online, pick up the phone and get to a human (without the "press hash" nonsense), their text message statements, and the option to communicate with them electronically, happens to suit my lifestyle perfectly.
First Direct offers a full range of financial services as well as their current account, including savings, ISA, mortgage and loan accounts - rather than list all that they do here, it's easier to suggest that you look at www.firstdirect.com to see if they can suit your needs.
More about first direct:

First Direct operates from offices in Leeds, with their call centre based in Hamilton, Scotland (pictured). According to their site, they have 1.2 million customers, 380,000 of which use their SMS text message banking service to stay up-to-date with their accounts.

Their efficient call centre staff handle around 235,000 calls a day, and work 365 days a year, 24 hours a day. Nine out of ten calls are dealt with by the first person who answers the phone.

They were voted Best Online Bank in 2005 by Personal Finance & Savings Magazine, and Best Current Account Provider in the Guardian/Observer 2004 Consumer Finance awards.
Their online Internet banking service does the job really well - the interface is clean and easy-to-use, and you can download your statements in a few different formats, for importing into Excel, or Microsoft Money. Their system also lets you set up electronic payments online... something you previously had to do over the phone, so if you owe anyone money, logon, type in the bank details and pay online.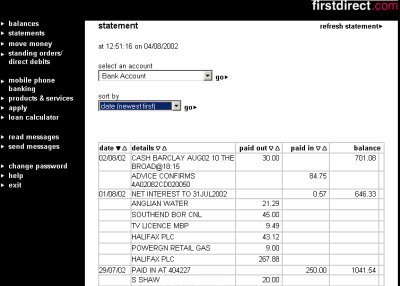 Screenshot of the First Direct statement screen

Text Message Banking
One of the many innovations from First Direct has been their SMS text message service - sending statements and updates to your mobile. You can set up a range of criteria (via their website), and when the event's triggered, it messages your phone. Mine's set to SMS me a free mini-statement every Friday, alert me when I'm paid, when my account falls below an amount, and when a debit over £200 leaves my account.
Text Banking

First Direct offers a handy service where you can have free weekly mini-statements sent to your mobile phone as an SMS text message.
You can also set up the service to send you a message when your account gets above or below a certain balance, or when you're about to go overdrawn.
Text Message Banking works with savings, credit cards and the First Direct current account.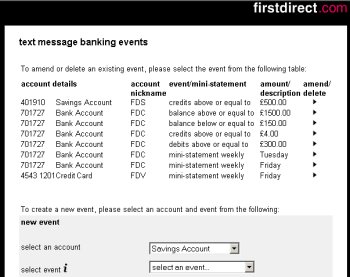 According to independent research, at the time of writing, first direct has been the most recommended bank in the UK for the past 12 years, and has had the most satisfied customers of any UK bank for the past 12 years.
First Direct on a Mobile Phone
As noted on this page, First Direct has been offering a text message banking service for a while - offering a daily statement and alerts when a preset limit is about to be reached.
In January 2011, First Direct released a free application for the iPhone and iPad. This application allows customers to check their balances, make bill payments, transfer funds and get a list of recent transactions.
The First Direct iPhone and iPad application is a free download available to First Direct customers: iTunes App Store Link
Other services and special offers
firstdirect's range of products and services also includes SmartMortgage (combine savings and loans into one scheme to bring the cost of your mortgage down), loans and savings accounts (with rates higher than that of the High Street banks), a credit card (with SMS updates and no annual fee), ISA accounts and a variety of loans.
For more details of First Direct, or to sign up, go to www.firstdirect.com
Useful First Direct information:
Address: First Direct, 40 Wakefield Road, Leeds LS98 1FD
Email: 24hours@firstdirect.com
Telephone banking: 08456 100 100
New customers : 0800 24 24 24
International number: +44 113 234 5678
Main switchboard number: 0113-276 6100
Fax: 0113-276 6663 or 0113-276 6677. Also 0113-276 6774 (press office)
Website: www.firstdirect.com
International electronic payment details:
The IBAN and BIC codes used for electronic transfers can be found on the top of First Direct bank statements (paper and online). For reference, here is the information taken from our statements.
RTN / SWIFT Bank Identifier Code (BIC): At the time of writing, our statement shows our BIC to be MIDLGB2168H
international Bank Account Number (IBAN): At the time of writing, our statement shows ours to be is constructed as follows: GB08MIDL<sortcode><accountnumber>
Beneficiary Bank Name: HSBC International (First Direct)
Beneficiary Bank Address: 40 Wakefield Road, Leeds LS98 1FD, United Kingdom
These details may be subject to change, and you should check your statement or consult First Direct to ensure that you have the most up-to-date information.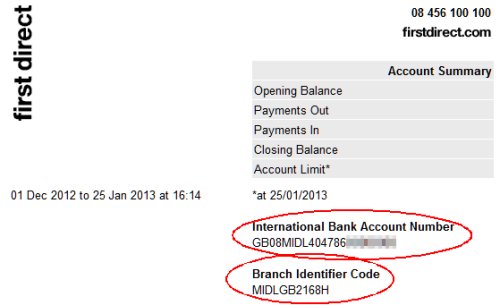 Screenshot of First Direct Statement, showing where to see the IBAN and BIC
Banking and Credit card page

Note that this site is NOT run by FirstDirect, and we cannot help with account queries. We advice you to contact First Direct, or check with First Direct's website, for all matters relating to your account, and for the most up-to-date information about their range of products and services.
Bookmark this page:

Del.icio.us
|

Digg
|

StumbleUpon
|

Technorati
|

Facebook