Getaways - Buying a break away
This page provides everything for a getaway, whether it's a romantic weekend for Valentines, or you are looking for a longer break for a special summer holiday on a secret lovenest on a little island in the Pacific Ocean.

Why?
To start, to keep us happy! Us ladies like to feel special and there's nothing more romantic than being whisked away. You will win from it as well.

Where?
Well, that depends on how much you want to spend and how much time you have to play with.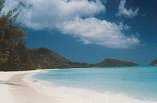 You can do lots, if you just want to do something special for her birthday, book a five star hotel for the night, treat her to a meal and get her a Champagne breakfast the next morning... you don't even need to go far. It could be five minute from where you live. Even better don't tell her and just say "lets go in for a coffee" after the meal, and then book in.

If you want to do the ultimate treat, take her a two week trip island hopping in the Pacific, believe me, there nothing more romantic than strolling down a beach thinking about nothing more than what the sunset looks like. You will win lots of brownie points in the process.

Here's some really good sites to find that perfect break:


Expedia - Great all round travel site
Ramada Jarvis - Great place to look for hotels in the UK.
Country Cottages in Britain- Looking for a romantic cottage for a weekend away.
Tropical Places - For holidays on those white sandy beaches.
British Airways Holidays - if you looking for something special.
Tip
If you want to go to footie match and its away, take her with you, and book her in for a massage at the hotel while you meet your mates for the match. You'll get what you want and she won't moan for you going off to the football.

Tip
Set the scene, arrange for the hotel to have a bunch of flowers and a bottle of bubbly in the hotel room for when you arrive, or get them to put a rose on the pillow with a message from you.

Tip
If you can't keep a surprise, book it last minute. It will stop you spilling the beans, but do your homework... you don't want to book it and it not be available.
Questions or suggestions? We'd love your feedback
Bookmark this page:

Del.icio.us
|

Digg
|

StumbleUpon
|

Technorati
|

Facebook