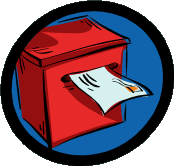 As a part of an ongoing dispute with Royal Mail about a business P.O Box, we're keen to find out from our visitors if anyone else has had, or is having, problems with their P.O Box service not living up to expectations.
If you or  your company uses a PO Box service for mail collection or delivery, and you've experienced any problems, such as mail being returned as "gone away", post sent to the wrong address, or the P.O box being ceased by Royal Mail in error, we'd love to hear from you.
Please add a comment in the box below.