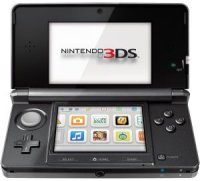 The Nintendo 3DS is released in the UK on the 3rd of March 2011.
The latest handheld console from Nintendo lets you play games in 3D without the need for silly glasses, and also comes with motion sensors, a 3D camera and improved wi-fi.
if you're toying with the idea of getting one, you can save £30 off the price of £229 by pre-ordering from Tesco.
 The impressive pre-order price of £197 (which includes free delivery plus Tesco Clubcard points) is only valid until the 3rd of March 2011, so games need to hurry.
Link: Preorder the Nintendo 3DS at Tesco Direct
Update: Now £196.99 on pre-order from Amazon: 3DS on Amazon.co.uk