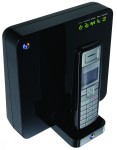 The BT Home Hub is currently FREE – but only until 19th March 2008.
If you sign up to BT Total Broadband Option 1, 2 or 3, you get a Home Hub wireless adapter (saving £50). BT Total Broadband is available for $8.95 a month for the first six months.
BT Home Hub, free on Option 1 only till 19th March '08. Order from www.bt.com/btbroadband. More details on our podcast's BT Home Hub page.