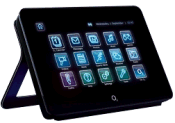 Want to pay silly money for something surprisingly useful?
Last year, o2 were pushing their "Joggler" device – intended as a way to keep the family in touch. At the time, the price was just under £150, but now, you can get one for £50.
What does the Joggler do? It's a stylish-looking touch-screen device that does a whole lot for the money – A digital picture frame, mp3 player, video player, Internet radio, travel and weather service, news and sports headline display, games, online calendar and SMS text terminal.
All that for £49.99
We're not sure when o2 will pull this offer, so we suggest you hurry. Get one from shop.o2.co.uk/joggler.