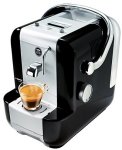 New addition to the site – Review of the Saeco Mio Modo Lavazza espresso coffee maker.
If you're a lover of fine Italian coffee, see our review for details of a Lavazza espresso, latte and cappuccino machine that's impressed our gormet coffee taster.
Our review is here: Lavazza Coffee Machine Review. We also have a podcast review, if you want to hear the machine in action.