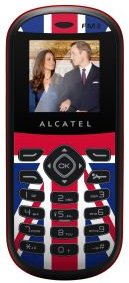 We're just over a week away from the Royal Wedding, and look what we've found!
A limited edition exclusive collectible Wills and Kate Mobile Phone, for just a quid.
The phone is in red, white and blue, with the wedding date on the back of the phone. The phone has a screensaver of the royal couple, and the pre-loaded ringtone is "God Save The Queen". You can't get more regal than that!
Now ok, this may be a fairly tacky phone, but you just know it's going to be a collector's item at some point in the future, and given that you can pick up this fully functional Alcatel mobile for £1 at Carphone Warehouse, it's got to be worth a punt.
The phone has a torch and an FM radio (which even the iPhone doesn't have)… and it comes in a presentation Royal Wedding box.
Available on the Virgin and Orange networks for a very limited time, you can order online at Carphone Warehouse if you're quick. Delivery is free.
You can use your day off on the 28th of April to try to sell it on eBay!