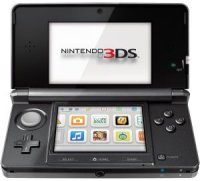 The Nintendo 3DS has finally launched in the UK. At midnight on Friday the 25th of March 2011, a number of stores opened early to allow people to be the first to own this revolutionary games console.
The 3DS has full 3D support, and you don't need to wear glasses. The 3D effect, adjusted by the 3D slider on the right of the screen, is truly exceptional. Here at ConsumerDeals, we've no idea how it works, but boy is it impressive.
If you're looking to get your hands on a Nintendo 3DS, then the cheapest way is to order online, of course. The retail price is £219, but it's at Amazon today for £187, saving £32 on the high street price. Nintendo 3DS at Amazon.co.uk
One of our team took a trip down the local high street to see who was offering a decent deal.
First port of call was high street chain GAME, who've been pushing the 3DS very heavily. Despite the console being priced at £197 on the GAME website , our local store refused to sell for anything less than £219. No deals, no flexibility. Amazing that their high street store is £22 more expensive than their online store, but hey-ho.
Other stores in the High Street also wouldn't budge from £219 – including our HMV, Argos and Currys. There is a way to get one instore at the lower price though – On launch day, Comet are selling online at £197, and if you do a click-and-collect, you can pick up the Nintendo 3DS from your local Comet for £197 – £22 cheaper than anyone else on the high street that we could find. See: Nintendo 3DS at Comet.co.uk
Kudos goes to GameStation, who also have a high street presence. At our local GameStation, they couldn't discount the console from £219, but on presentation of the Comet offer, they were prepared to do a deal on games and accessories purchases, to get the final bill to be a match with Comet. So GameStation got our business. We got a further £6 saving by taking out their loyalty card and taking advantage of 1000 free points.
Although it's still cheaper to shop online, a saving of £22 – £28 by doing some homework and shopping around, means some bargains are still available in the offline world. Just a shame GAME lack the flexibility of their competitors (and their own site!)
By the way… we have a 3DS. Got any questions about the console? Add a comment, and we'll be happy to help!