On this page, you'll find a log of some of the spam texts we've received on our o2 mobile. These are listed here to help those performing a search on the phone numbers or text message contents: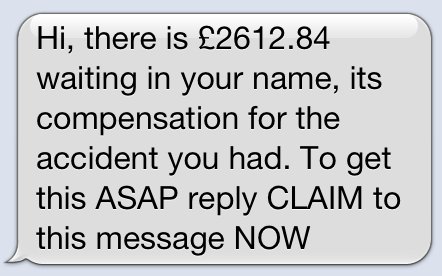 07876 647087 24 Nov 2012 10:02
You have been pre-approved for a loan of up to £1000, to get it sent straight to you today just complete the form txtpayday dot com

07585 603598 20 Nov 2012 12:43
IMPORTANT! you are owed £4150 for the PPI you took out, time is running out to claim, please visit youhaveppi dot com to claim, thank you. To opt out reply STOP

07760 574449 08 Sep 2012 23:23
You may be eligible to lower your debt repayments & wipe up to 75% of your debt through current legislation. Reply DEBT for info, to opt out text stop. E Ltd

07548 775587 09 Jul 2012 11:40
Hi, there is £2612.84 waiting in your name, its compensation for the accident you had. To get this ASAP reply CLAIM to this message NOW

07767 098727 16 Dec 2012 17:21
FreeMsg: Win the iPad3 and the iPhone4s in AppleQuiz NOW. Click to play - firstlight dot mobi
How to report text spam to o2
If you're with o2, forward all of your spam text messages to o2 on 7726 – Save this to your phone's address book.
Any comments? Add a comment below…